goLITE P1

Price:

$189.00

Part # :

762849

Availability :

Usually ships the same business day

Includes :

GoLite, Travel Case, Power Cord
goLITE M2


All the features of the P1 plus: Integrated long lasting Li-Ion battery, neoprene carrying case, treatment reminder alarm and international adapter kit

Price:

$239.00

Part # :

GLM2

Availability :

Usually ships the same business day

Includes :

goLITE M2, AC Power/Charging Cord, Slim International adapter set, Custom slim neoprene carrying case, Built-in long lasting Li-Ion Battery
goLITE P1 & goLITE M2
By Apollo Health

We've been building the world's best light boxes for more than two decades.
For many years, the world's leading light therapy researchers and doctors have known that full-spectrum, 10,000 lux light boxes can be very effective at treating seasonal affective disorder and other circadian rhythm related mood disorders. They also know that no one does 10,000 lux better than Apollo Health, which is why we're the world's most-recommended, best-selling brand.
Ask us a question!
Email us a question about the goLITE. Our knowledgable and helpful staff will be happy to assist you!
Now we're building the world's best blue spectrum light therapy device.
Recently, researchers have discovered that a very specific range of blue light is the most effective color (wavelength) in treating these disorders. Apollo has spent the last several years working with leading experts to develop a new product based on this research, and we're proud to announce the goLITE P1. This patent-pending product delivers only the most effective wavelengths, which means a more convenient treatment, and fewer side effects than traditional 10,000 lux full-spectrum light therapy devices.

BLUEWAVE™ Technology
Patent-pending BLUEWAVE™ is the result of ten years of research with medical universities and the National Institutes of Health (NIH). Other companies may tout the benefits of this new research. Only Apollo has participated in this research and we are the only company to produce lights that provide 100% of the effective blue light.
Used at NASA & by Research Experts
BLUEWAVE™ technology is so effective that it has been used at NASA as the preferred method to regulate astronaut's and shuttle crews' sleep/wake schedules. BLUEWAVE was also demonstrated at the June 2004 Society for Research in Biological Rhythms (SRBR) Medical Conference, where leading researchers recognized Apollo's BLUEWAVE as the definitive lighting technology for regulating circadian rhythms.
Technology of the Future
BLUEWAVE™ is so significant because it provides a higher effective response than most full spectrum light, but at 1/10th the intensity 10,000-lux. This means light therapy is not only convenient but easier on the eyes with fewer side effects. Because BLUEWAVE™ is so effective, all of our BRITEWAVE™ products have also been upgraded with BLUEWAVE™ technology. Indeed, BLUEWAVE™ is the technology of the future.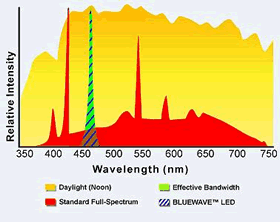 The specific bandwidth of light that is responsible for treating SAD and related circadian rhythm disorders ranges from 446 - 477 nm (nanometers), and is up to 5 times more effective than other wavelengths. This spectral graph shows that only Apollo's patented BLUEWAVE™ technology precisely matches this specific bandwidth.
BLUEWAVE LED technology produces the same amount of effective light
as natural sunlight, while 10,000-lux full-spectrum produces less than 40%. Because BLUEWAVE produces 100% of the necessary bandwidth, it elicits a stronger and quicker response. Clinical trials have shown BLUEWAVE LED technology to be effective in treating SAD.
How is BLUEWAVE™ Measured? 10,000 lux vs. Photons/cm2
Because BLUEWAVE™ represents only a narrow slice of the visible light spectrum, it cannot be measured accurately with a lux meter. Lux meters measure the total spectral energy from all visible wavelengths, not specific bandwidths. This is why BLUEWAVE™ intensity is measured in photons/cm instead of in lux.
Warning!
Many light therapy companies make false claims regarding their products' performance and safety. Apollo has participated in more research than all other light therapy companies combined. In fact, most of our competitors quote research conducted with Apollo lights. You should verify any claims made by any company selling light therapy devices. Many of our competitors claim to be "#1", or to have safe and effective products. Ask them to prove it!
Fully programmable *
International AC adapter
BlueWave™ Technology *
Suggested distance 20"-22"
Adjustable treatment timer *
Automatic shut-down *
Protective front flip cover *
Weighs less than 1 pound
Can be battery powered *
(sold separately)
Remembers personal settings*
UL, CUL, and CE safety listed
100% of recommended blue light *
World's smallest light therapy device *
Personalized treatment schedule *
Long lasting eye-safe LEDs *
Anti-glare diffuser lens *
EMF-free
UV free *
2 year warranty
Built in clock *
Backlit digital LCD display *
US & Int'l Patent pending
HCPCS Code E0203
CPT 90899

FREE Carrying Case
* These features are only available on the goLITE P1 from Apollo Health.
The Only Proven Blue Technology:
To learn more about this effective bandwidth of light, click the following links:
Don't be fooled by cheap imitations. Apollo's BLUEWAVE™ Technology is the only clinically proven blue light source to treat mood disorders.
Provides an edge while sleeping on either the right or left side - no need to reposition! Includes one fitted pillowcase.


© 2000-2006 TALK ABOUT SLEEP, INC. ALL RIGHTS RESERVED.
TALK ABOUT SLEEP, Inc.
14480 Ewing Ave So. Suite 102
Burnsville, MN 55306
Telephone (952) 358-7070
Fax (866) 835-6437